Wind in your hair, some tunes on the radio, and views out the window that could rival New Zealand's own spectacular scenery - what better way is there to experience Europe than when you're at the wheel?
Fasten your seat belt (safety first!) because we've compiled six epic European road trips you should consider taking once in your life.
1. Wild Atlantic Way, Ireland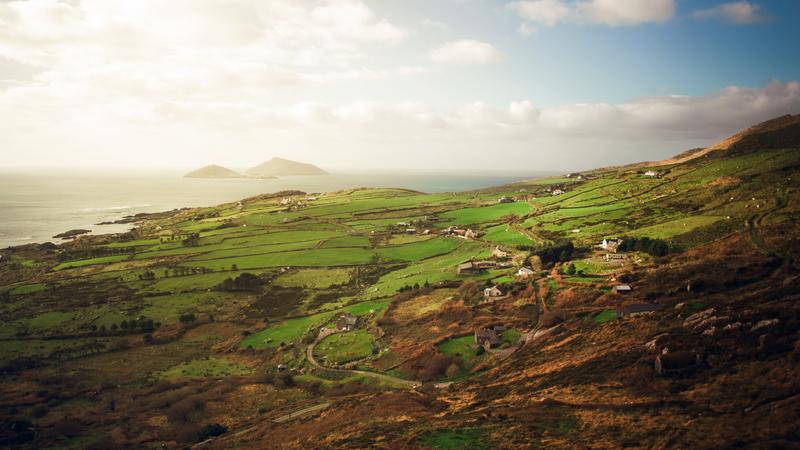 As our resident Irish expat Mairead Burke points out, Ireland is a country that is made for road trips. Like New Zealand, it's relatively small in size and is packed with landscapes that will make your jaw drop and your heart sing. Yes, those may be cliches, but we're not over-exaggerating this. From spectacular cliffs, wild coastlines, rolling green hills (it ain't called "the Emerald Isle" for nothing) and beautiful little villages, a road trip through this country is a breath of fresh air. Throw in quaint B&Bs, pubs with live music, friendly locals and you've got the perfect holiday.
The Wild Atlantic Way follows the west coast of Ireland. The entire route - if you have time for it - is 2,500km. However, it's broken up into smaller sections that are easily doable over a period of one or two weeks if you don't have a lot of time on your hands. Here are some of the highlights:
Kinsale: While a lot of people head straight for Dublin, Ireland's charm is to be found in its small seaside towns and villages. Kinsale is a beautiful historic town you'll encounter in the southwest of Ireland. Here you'll find colourful buildings, lively festivals, some of the country's finest gourmet cuisine, and highly entertaining ghost tours.
Southern Peninsulas: Take a detour and spend a few days exploring the Ring of Kerry, a wild part of Ireland's west coast. You'll drive through stunning mountain passes, plenty of historic sites, postcard towns and villages, and national parks. Or you can encounter Bronze Age sites in the Bonane Valley, lively towns, stunning walking and biking trails and fresh seafood on the Beara Peninsula, an alternative to the more well-known Ring of Kerry route. There's also the Dingle Peninsula, the Iveragh Peninsula - where you can visit some of the filming locations from Star Wars, as well as the Sheep's Head and Mizen Head Peninsulas. Drive them all if you have time, or pick one to explore in depth.
Arran Islands: These islands just off the coast of Galway make the perfect day trip to break up your time on the road. Here you'll find old stone walls, stunning beaches and encounter locals who still communicate in Gaelic. You might feel as though you've stepped back in time. Hire a bike and explore things at a slower pace.
Cliffs of Moher: These are one of Ireland's iconic natural landscapes, and while you certainly won't be the only one visiting, they are well worth the visit. These dramatic cliffs make for the perfect photo opportunity, especially as the sun is going down.

The Connemara

: If it's unspoilt landscapes you're after, the Connemara won't disappoint. The 40,000 acre Connemara National Park has it in abundance. Make sure you spend some time here outside of the car - the walking trails are one for the bucket list.
The Northern Headlands: Should you make it up to the far north of Ireland, you'll be rewarded with some of the best scenery the country has to offer, and slightly fewer crowds. Here you'll find more dramatic cliffs, coastlines dotted with lighthouses, thriving local communities with a strong Gaelic heritage, and - if you're lucky - a chance to spot the Northern Lights dancing across the sky in winter.
2. Bergen to Trondheim, Norway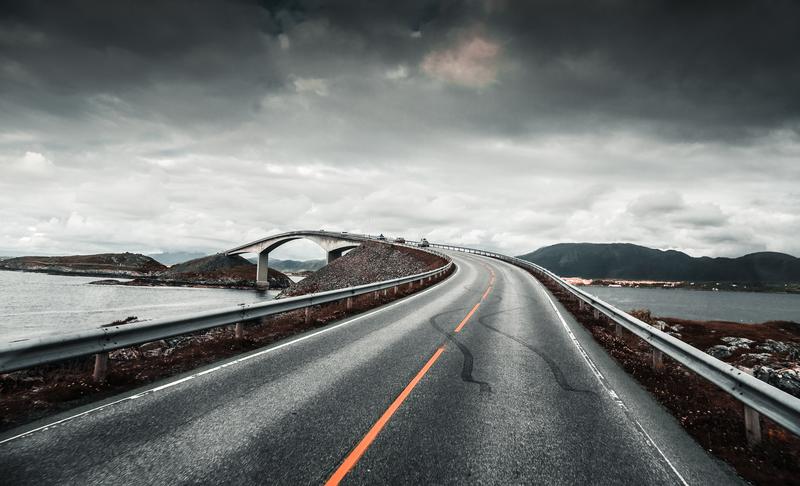 Norway is another country that is built for road trips. With its fantastic, incredibly-designed roads and dramatic scenery, driving along the country's west coast is a dream. You'll likely encounter a lot of Teslas - the Norwegians are big on environmentally-conscious vehicles - as well as stunning fjords, historic churches, and even some beautiful beaches (though the water might be a tad chilly, even in summer!)
Starting in the colourful seaside town of Bergen, you can make your way through the fjords up to Trondheim. Some of the highlights you'll encounter along the way include:
Trollstigen: Trollstigen literally translates to "The Troll Road", and it's a seriously impressive 100km stretch of road from Geiranger to the bottom of the Romsdal Valley. It's not for the faint-hearted - there are 11 hairpin bends along the road that is actually carved into the mountainside and supported by stone walls. The views are incredible - just make sure anyone with a fear of heights or sheer drops is fully prepared!
Vettisfossen Waterfall: Norway is home to some of the world's tallest waterfalls, and the Vettisfossen is one of the most impressive. It's the tallest unregulated free-falling single-drop waterfall in Norway at 275m high.

Flåm Railway: Swap the road for train tracks for a day to jump on one of the most famous trains in the world - the Flåmsbanan that runs between Flåm and Myrdal. Like the Trollstigen, it's not for the faint of heart; it's one of the steepest railway lines in the world and runs through 20 tunnels along the 20km route.
Alesund: One might compare Alesund to Queenstown - it's the capital of the fjords, boasting some of the region's best attractions both natural and cultural. The town itself is something out of a fairytale, with splendid Art Nouveau architecture creating magical turrets and spires. Nearby you'll find plenty of hiking trails, and can take a gondola ride to the top of Strandafjellet for panoramic views.

3. The Fairy-Tale Road, Germany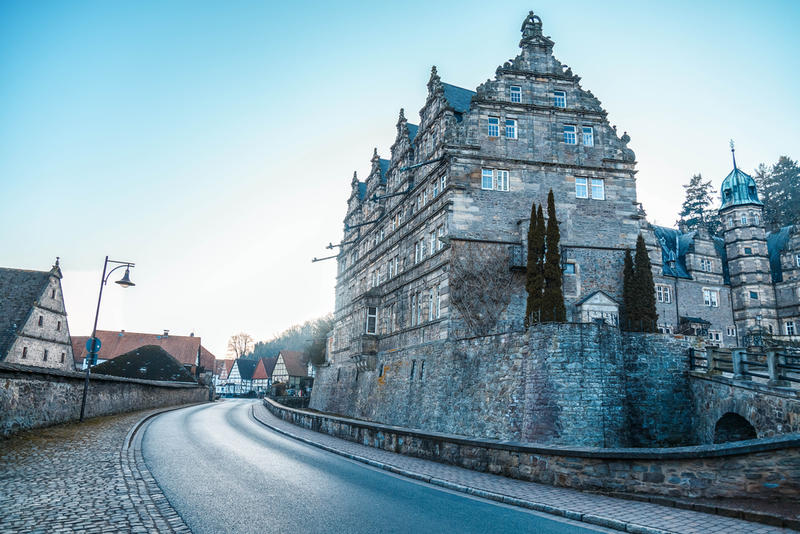 This 600km driving route winds through various places that are connected with the work of the Brothers Grimm. Think gingerbread houses, dark forests, picturesque villages and magical castles, and that's just some of what's in store on this road trip through the German countryside.
The route runs between Frankfurt and Bremen, and you can begin at either end. Here are some of the highlights along the way:
Hanau: This town is home to a museum dedicated to the Brothers Grimm, where you can find artefacts they used to own. Join a town history tour to learn more about its history, and visit the Palace Philippsruhe for a celebration of the brothers' classic fairytales if you're visiting in the summer months.
Steinau: This town is where the brothers lived until they turned 12, and you can visit the house they grew up in. Wander through the streets of the town and you'll feel as though you're inhabiting a real life fairytale - its turreted towers and cobblestone streets create a truly magical atmosphere.
Kassel: The Brothers Grimm lived here as teenagers while working as librarians for the King of Westphalia. This Bavarian town has been largely rebuilt after it was destroyed in WWII, however it offers a Brothers Grimm museum, as well as a beautiful hill park said to be the largest in Europe.
Göttingen: This town is home to the

University of Göttingen, where the Grimm brothers once taught as professors. If you visit the main town square, you'll find a statue of Gänseliesel - perhaps the most kissed girl in the world. She's from the Brothers Grimm fairytale "The Goose Girl", and in an interesting ritual, recently successful PhD students dress up in flowers and streamers and kiss the statue to celebrate passing their dissertation.

Hameln: This town was the setting for the well-known tale of the Pied Piper. The town itself houses beautiful architecture and is a jumping off point to explore nearby walks and hikes. For those interested in the tale of the Pied Piper, you'll find reference to the story all throughout the town, from the moving figurines on the Wedding House to open-air performances during the summer months.

4. Geneva to Zürich, Switzerland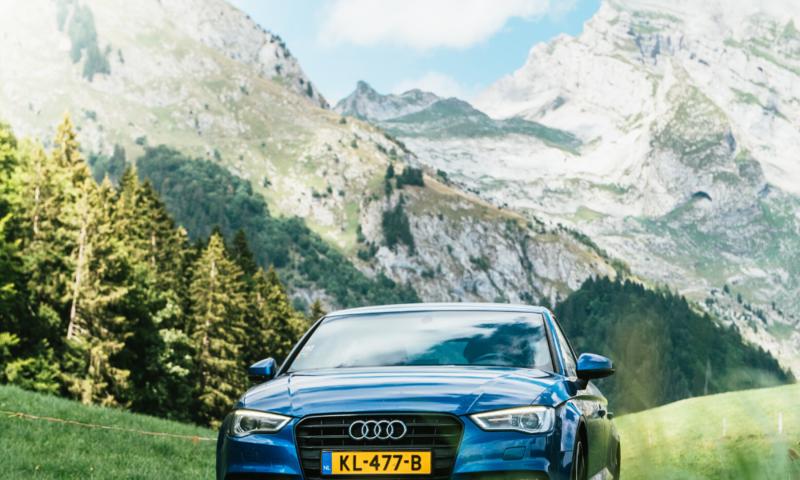 If hiking in the alps isn't quite your thing but you still want to experience all the beautiful scenery the region is famous for, a road trip from Geneva to Zurich might be right up your alley. This road trip will take you through some of the world's most spectacular alpine landscapes - plus you'll get to sample plenty of Swiss cheese and chocolate along the way!
Some of the highlights of this route include:
Bern: After exploring the streets of Geneva, head to Switzerland's capital. It certainly doesn't feel like a capital city; instead of towering skyscrapers there's more of a provincial feel to Bern, and herein lies its charm. From its top-notch museums to its happening nightlife and beautiful backdrop, Bern won't disappoint.
Interlaken: If Alesund is the Queenstown of Norway, then Interlaken is undoubtedly the Queenstown of Switzerland. Its the adventure capital of the Jungfrau region and makes for the perfect stop on your road trip if you're looking for a bit of adrenaline after sitting in a car for hours with some abseiling, paragliding, hiking or white water rafting. Positioned between two lakes with the peaks of Jungfrau, Eiger and Mönch in the background, it makes for a pretty Instagrammable location, too.
Grindelwald: About a half hour's drive from Interlaken lies perhaps the most beautiful place in the Europe - if not the world. Its glaciers, chiselled peaks and gorgeous chalets situated in green alpine meadows will truly make you feel as though you're inhabiting a storybook.
Lucerne: Lucerne lies at the foot of the alps and offers up everything you could want from a Swiss town: stunning views, medieval history, fascinating architecture and delectable food. Head to the Old Town (Aldstadt) and wander the cobblestoned alleys, marvelling at the beautiful frescoed buildings, old churches and romantic riverside cafes. If you've got some time to spare, take the world's steepest cogwheel railroad up the slopes of Mount Pilatus.
5. Tuscany, Italy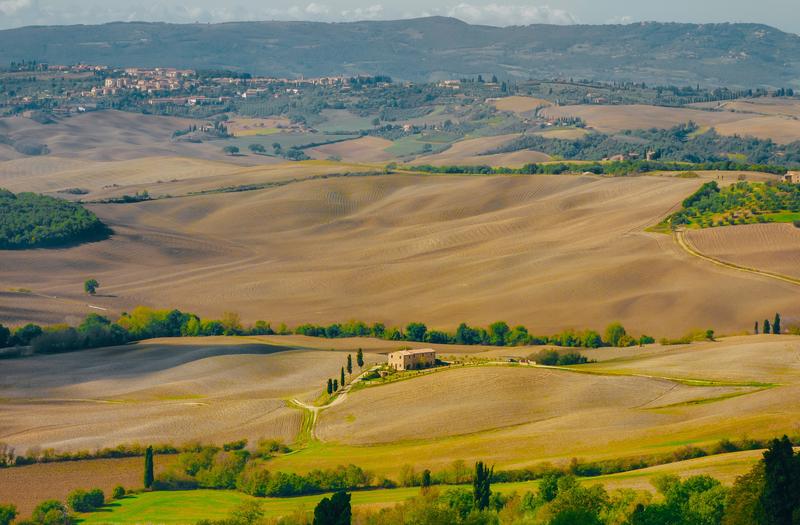 We're sure we don't need to convince you why a trip to Tuscany is a good idea - this region's rolling hills, vineyards, historic towns and world-class cuisine make it the place to go to experience la dolce vita. A road trip through this region isn't one of epic proportions where you'll be driving for hours every day. Rather, it's about taking your time - cruising from one place to another, staying for a few nights to really immerse yourself in one place, and enjoying everything along the way. As World Travellers broker Teryl Tumai advises, the best way to experience Italy is slowly.
Here are some spots to include on your Tuscan road trip:
Monteriggioni: If you're fascinated by medieval history, this walled down in the Val D'Orcia region of Tuscany will make all your dreams come true. It's been used as a backdrop in films including Gladiator and The English Patient, and its castle is an impressive one.
Montalcino: This town is a must-visit during July when it hosts the annual Jazz & Wine Festival. Its local wine, Brunello de Montalcino, also has a reputation for being one of the finest Italian wines. There's also an impressive fortress, gorgeous streets and views a-plenty.
Abbazia di Sant'Antimo: This Roman-style Benedictine abbey is a beautiful stop on your road trip through Tuscany. It's a beautiful work of architecture surrounded by an equally beautiful landscape of vineyards and olive groves.
Bagno Vignoni: There's a volcanic spring in the middle of this village that has created natural hot pools in the town square. You can't actually bathe in these hot pools, but there are others you can enjoy, along with private spas where you can get some quality relaxation time.
6. Transylvania to Wallachia, Romania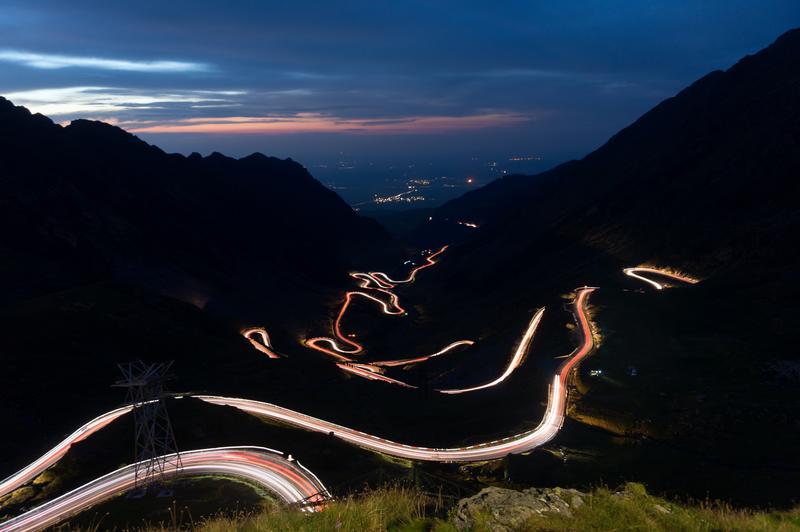 The route from Transylvania to Wallachia in Romania is known as the Transfăgărășan, and it's so impressive that Top Gear's Jeremy Clarkson once said it was the top road in the world. The 90km stretch of road was commissioned by Communist dictator Nicolae Ceausescu in the early 1970s with the purpose of ensuring a military strategic route through the mountains.It's got castles, fairytale scenery, literary sights, mountains and some of the prettiest towns in the whole of Europe along the way, as well as Romania's longest road tunnel.
Romania may not have immediately sprung to mind when you thought of "European road trips", but this one is a real gem and worth doing if you'd like to explore this part of Eastern Europe. Here are some of the highlights:
Poienari Citadel: This cliffside castle was the home of the real Dracula - Vlad Ţepeş. In the 15th century he saw its potential as a stronghold and made it his place of residence. There are well over 1,000 steps to reach the ruin, but the views you'll get are worth the lung-busting climb.
Lake Balea: This glacial lake is at an altitude of 2,034m, which is almost the highest point of the

Transfăgărășan road. Each year, a hotel is constructed out of ice taken from the lake, where guests can stay during the winter. From the lake you can also take a one-hour hike to another glacial lake, Lake Capra, or take on a more challenging hike to one of the nearby peaks.

---
Thinking of planning your own European road trip? Our experienced consultants can help you out with car rental, accommodation, flights, travel insurance and all other aspects of planning your trip. We can help with as little or as much of the planning as you like - and appointments are completely free. Come and experience the world differently with us and find your nearest World Travellers office today.