She's survived a fire ant attack in Thailand, loves a good cheese platter and can tell you where to go to beat the crowds in Croatia. Natasha Chapman from World Travellers Remuera shares with us a very memorable travel experience, some of the incredible trips she's planned for her clients, and why she's your go-to gal if you want to explore the Adriatic Coast.

Despite being pretty darn good at it, Natasha actually never thought she'd become a travel agent. However, after getting a tourism and travel scholarship at school she decided to spend a week in a travel agency as part of an advanced course she was taking. "At the end of my course I was offered a job at that same agency and decided to take it," she recalls. Eighteen years later, we think she's found her calling!
Not just your average trip
Natasha's organised some fairly off-the-beaten-track experiences for her clients. One customer came to her with a pretty unique request. "North Korea had been on his list of places to visit and after a couple of years of talking about it he finally booked. We organised a private tour for 12 days and he really enjoyed his experience. He is planning to go back in a couple of year's time and after talking to him when he got back and looking through his photos it was so different from what we see in the media."
So is North Korea next on Natasha's bucket list?
"I still haven't been to New York yet so that's definitely on my list of places to go. I love big cities as they have so much going on."
From Auckland to the Adriatic
Natasha was born and raised in Auckland, and counts Kumeu (for the cheese platters) and Takapuna Beach (for the cafes) among her favourite spots. Her love of good food and sunshine might just stem from her Croatian heritage. "I come from a Croatian background and my baba and dida (grandparents) have a place on the Adriatic Coast in a village called Tucepi. I have been there a few times now and just love it."
So what are her top tips for travellers to Croatia?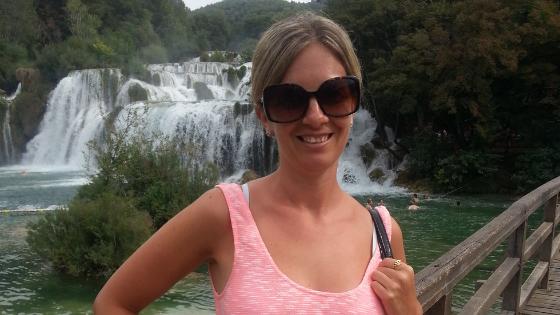 "Croatia has become a very popular destination for tourists. However, most people tend to visit Split or Dubrovnik and not get to any of the gorgeous spots along the coast so I highly recommend you do as you are missing out. The beaches are stones not stand so I'd suggest taking some beach shoes which will make it easier to walk on. The most popular beer is Karlovačko which is the best on a hot summer's day to quench your thirst."
A brush with fire
Not all of Natasha's travel experiences have been quite so relaxing. One trip to Thailand turned into an interesting encounter with one of nature's fieriest critters.
"I was on an elephant trek in Thailand a few years ago. We were only 15 minutes in and there was a big tree branch ahead so the guide moved the branch out of the way for the elephant to get through. However, when the branch flung back, a fire ant's nest ended up under our seat and we were literally covered in them. We started screaming and the guide couldn't figure out what was going on, but when he did he tried his best to get rid of the nest. We spent the rest of the trek trying to get rid of them and all we had with us was a refresher towel! It was certainly an experience I will never forget."
A or B?
5 star hotel or Treehouse?
5 star hotel
Cruise or road trip?
Cruise
Adventure or relaxation?
Relaxation
Beach or mountain?
Beach (we could've guessed that one!)
Carry-on only or extra checked bags?
Definitely the extra checked bags. I'm a terrible packer!
Street food or fine dining?
Probably a bit in between the two
City lights or countryside delights?
City lights balanced out with time in the countryside.
Tash's Top Travel Tips
Finally, we asked Natasha for her top travel tip, and she had two for us.
1. "Learn about the destination you are visiting and if English is not their first language, learn a couple of phrases/words in their language as they will appreciate the effort you make."
2. Take lots of photos. "Most phones have great cameras these days and they also have a GPS tag so it will identify where you took the photo which makes it easy for sharing photos on social media or for when you get home. Holiday memories are the best. My phone is such a great tool as you can take photos, use maps to navigate your way around, search for the top attractions or places to eat wherever you are."
You can also use it to give Natasha a call and plan your next overseas adventure! Or just head on down to Silverdale to the Magnolia Kitchen café – she'll probably be there getting some inspiration.
Find your nearest World Travellers store and come in for a chat with one of our agents. We treat you as friends; not a business transaction, and we're with you every step of the way. Come and experience the world differently with us.