Michelle Rook's bright personality matches the sunny climate of her home town of Napier. You'll find Michelle at the World Travellers Galaxy Travel office in Rotorua, planning round-the-world trips for her clients – if she's not off travelling herself! We had a chat to Michelle about how she got into travel, her best travel advice and the places she still wants to tick off her bucket list.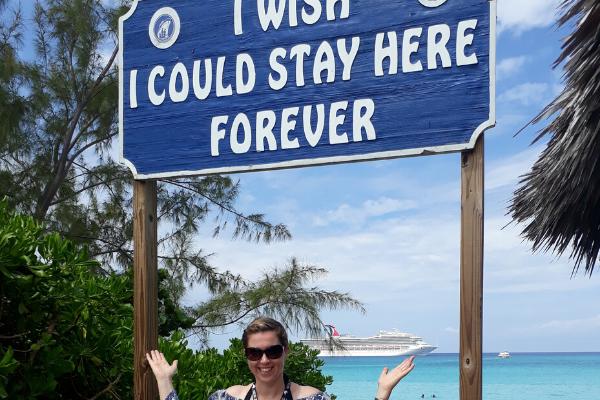 Although she now calls Rotorua home, Michelle's family still lives in Hawke's Bay. If you find yourself out that way, she has a few recommendations.
"I'd drive up Te Mata Peak in Havelock North for a fantastic rural view, definitely check out a local winery or 2 (there are over 70!), drive along Marine Parade and through town to check out the Art Deco buildings and perhaps visit Hot Chick for some yummy rotisserie chicken by the beach."
Michelle got into travel after doing a travel and tourism course that gave her some insight into the industry. After completing her course, she worked at Rainbow Springs and a car rental agency before jumping into the world of travel. "I've been here since - nearly 12 years (time flies!)".
"Growing up I'd also done some travels with my family to Australia and the USA, and done a tour in Europe with a friend, so I knew I enjoyed travel," she says.
Top tips for discovering Niue
Since her childhood adventures she's travelled extensively. Niue is one place she knows very well.
"I visited Niue last year and what a destination!It's so different to any of the other Pacific Islands since it's a raised coral atoll."
She's got plenty of advice for those wanting to experience this unique island destination.
"Take reef shoes and snorkelling gear to make the most of your experience in thecrystal clear water.A pair of sneakers is also handy," she suggests. "When you're there have a look at the tides, as they determine which areas you can swim at. Must visits are Limy Pools, Avaiki Cave and Matapa Chasm (where you can swim at any tide)."
"Booking car prior to travel is a must and it's a common occurrence to wave to the locals as you go by. Sunday is a day of rest for the locals. You can visit a church service and have lunch at one of the beautiful cafes overlooking the sea."
Want more Niue tips? We've got plenty for you here.
Michelle's travel tips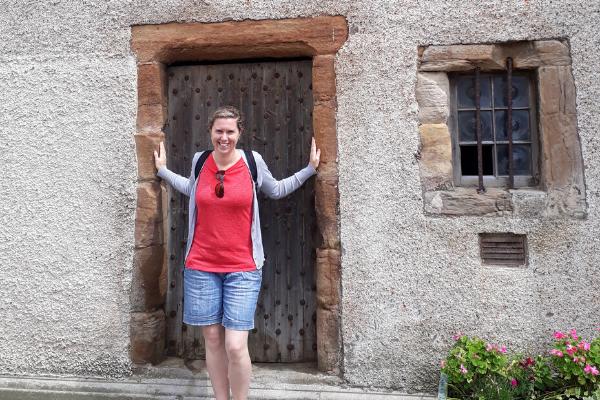 Over the course of her travels, Michelle's discovered several things that make the journey easier. If you're thinking about embarking on a cruise, she's got a pretty good suggestion. For "Usually one side of the ship is even room numbers and the other side is odd numbers. This is good to know since you'll use different lifts and stairs during the cruise, when you step out of the lift it's easier to find your cabin knowing if you are on the right or left side!"
Want to know more about cruising? Read our article about cruising here.
Michelle likes to keep a travel diary when she goes on holiday so she "can look back and remember the little things."
"I recently discovered packing cells and they make finding things in your suitcase so much easier," she says.
Travel mishaps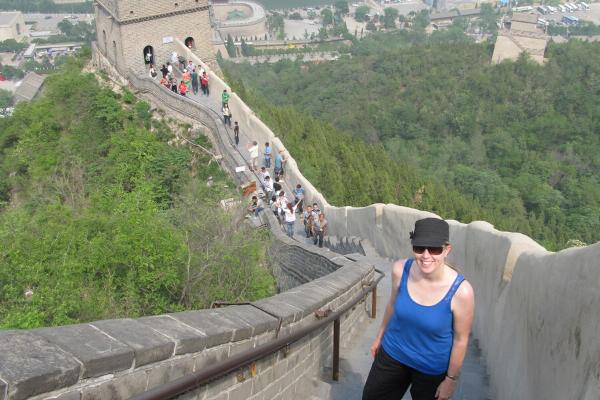 Michelle reckons she's been pretty fortunate on her travels so car (or else she's keeping her disaster stories close to her chest!) But like anyone who travels often, things are bound to go wrong occasionally. "I do remember when I started out in travel I went to Fiji and the plane was delayed and then cancelled so we had to wait until the next day. When they got my brand new suitcase off the plane it already had a rip in it and we hadn't even gone anywhere yet! I've also had flights delayed and had to miss some of the trip, but that's travel for you. I've been sick on the plane once going to Hong Kong and once unwell for a day in Chicago, however I didn't let it spoil my trips."
It's always a good idea to take out travel insurance just in case things do go wrong on holiday. You might be lucky like Michelle not to have had anything too serious happen, but in case it does, you'll be well looked after.
Where to next?
There are lots of places Michelle still wants to get to. "I've always wanted to go to Thailand to experience the culture, local food (do a cooking class) and take in all the beautiful sights and nature."
"One day I hope to do an African safari. I recently fulfilled a dream of a Caribbean Cruise and visiting Miami (even got to road trip down to Key West)."
Planning once-in-a-lifetime trips
When she's not ticking destinations off her own bucket list, she's helping her customers do the same. Michelle has organised all kinds of holidays for her clients, but one she remembers well was an epic round-the-world journey.
"Years ago I did a round the world trip for clients. They cruised to China, flew from China to South Africa, had a local experience at the Drakensburg mountains, some time in Cape Town, cruised up the West African coast to Europe, and finished with a Ukraine River Cruise and time in Europe with family." We can only imagine the logistics of planning such a trip, but with a travel consultant like Michelle at your side, we have no doubt the hiccups were minimal.
In fact, the trip must have been a success because the same clients continue to return to Galaxy Travel Rotorua to book with Michelle. "They've booked with me every year since that trip and go away for 3 months at a time."
Nothing seems to have gone wrong for them when they're travelling, but funnily enough it's here in New Zealand that things have gone wrong. "It's amusing how they can travel around the world for months at a time and nothing go wrong only to get back to New Zealand one time to discover their Auckland-Rotorua flight was cancelled!"
Well, not every trip can be perfect.
When she's not travelling …
"I like walking and getting out in nature, whether that be day trips or exploring the forest and lakes Rotorua has to offer. I also do a few crafts as a hobby," Michelle says.
"Catching up with friends and family is always enjoyable," she adds.
A or B?
5 star hotel or treehouse? Treehouse
Cruise or road trip? Cruise
Adventure or relaxation? Both
Beach or mountain? Mountain
Carry-on only or extra checked bags? Extra checked bags
Street food or fine dining? Street food
City lights or countryside delights? Countryside delights