Jeremy Matthews recently returned from the Swiss Alps and had such a great time he can't wait to go back! If you've ever wondered what it's like to go on a walking holiday in this beautiful part of the world, he's here to oblige.
Chamonix-Mont Blanc, a piece of my heart remains with you! I'll be back! A bientot!
Our group of 11 walkers from New Zealand and Australia recently undertook Exodus Travel's 8 day Chamonix-based alpine walking holiday. Flying into Geneva, we were collected and bussed, via increasing spectacular valleys and mountain vistas, to our very comfortable traditional accommodation, Chalet Chocolat, in the alpine township of Chamonix-Mont Blanc.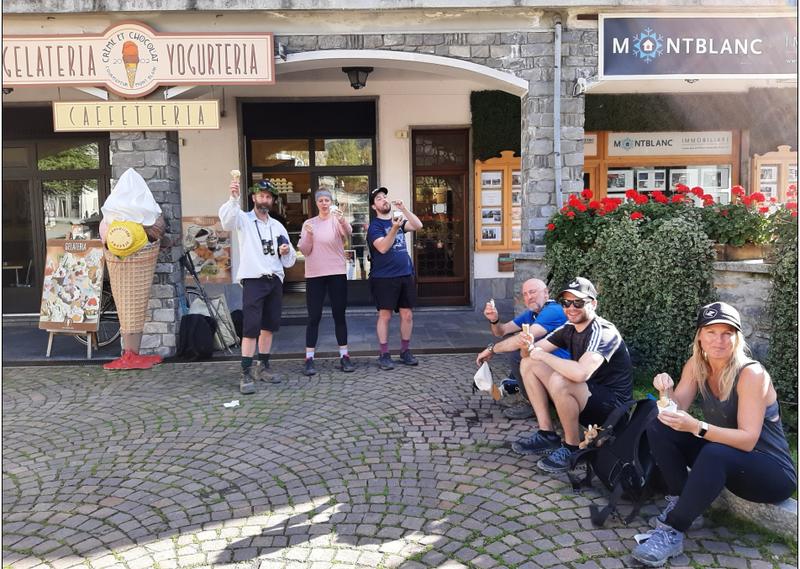 On arrival, we all knew we were in for something very special as we were warmly greeted by our chalet hosts Zohi and Ben and ushered into the comfortable living area for a welcome coffee and freshly-baked cake. We stowed our gear in our spacious rooms (all with ensuite) and then went for a walk into the very charming Chamonix township (pop. 10,000 swelling to 130,000 during the summer and winter seasons) for a look-see. This area has been settled since the 12th century, but due to its isolation, the railway only reached here in 1900. Soon after, famous people and royalty came to Chamonix to ski in the winter and walk in the summer. The first Winter Olympics were held here in 1924.
Many gemstones and crystals are found in the surrounding mountains and the cheese products from the valley formed the basis of income for many early families. Switzerland is at the head of the Chamonix Valley and the Mont Blanc tunnel (through western Europe's highest mountain) runs from the Chamonix Valley to Courmayer in Italy. Early Chamonix settlers were renowned smugglers, secretly crossing mountain passes with goods to avoid tariffs!
A typical day in the Alps
A typical walking day involved a 7.30am breakfast of fresh croissants and pain au chocolat (collected from the local bakery by Ben) with cereals, fruit juice and strong coffee. Freshly baked baguettes were sliced in two and filled with ham, cheese, salad and mayonnaise then jammed into our tins and daypacks. We loaded into the vans at 9.30am for a short drive to our starting point of the day's walk. Averaging about 12km each day, the walking typically involved passing through charming alpine villages with centuries-old farmer's chalets, cows and sheep (with bells) grazing, alpine meadows, streams, glaciers and waterfalls. We all felt like we'd just been recruited to film a new version of The Sound of Music!
Our guide Sean answered the many questions we had about the local environment, geology, wildlife and so on. There was ample time for many photographs as we ascended further up towards a peak or mountain pass. On arrival about midday, we unpacked our lunch and sat spell-bound by the amazing views. One day we saw several chamois and some golden eagles and clearly heard stags roaring in the nearby forest at the start of the rutting season. European ibex inhabit the high zone and come down only with the heavy snows of November to February. The afternoon saw us descending slowly down to the valley floor via the alpine meadows and a mountain café for a beer or coffee or gelato at a local gelaterie. We arrived at our afternoon pickup point about 4pm and we were whisked back to Chalet Chocolat to devour another freshly-baked cake (thanks Zohi and Ben!) and cup of tea. Then it was into the jacuzzi to soak the weary muscles before pre-dinner drinks and a three-course gourmet dinner at 7.30pm.
Ben was a very able sous-chef and Zohi was raised in a foodie household (her Greek mother ran a catering business) and she had completed a 5 year city and guilds catering apprenticeship and co-authored a 130 page cookbook. All this heritage and training clearly shone through, as we were all daily wowed by the amazing standard of cuisine! Souffles, local duck, black forest gateau, French onion soup, gnocci and crème brulee, amongst other treats, were all brought to the table. Catering for our group appeared to be effortless and undertaken with true passion and great humour. Thanks so much Zohi and Ben, our stomachs were singing everyday!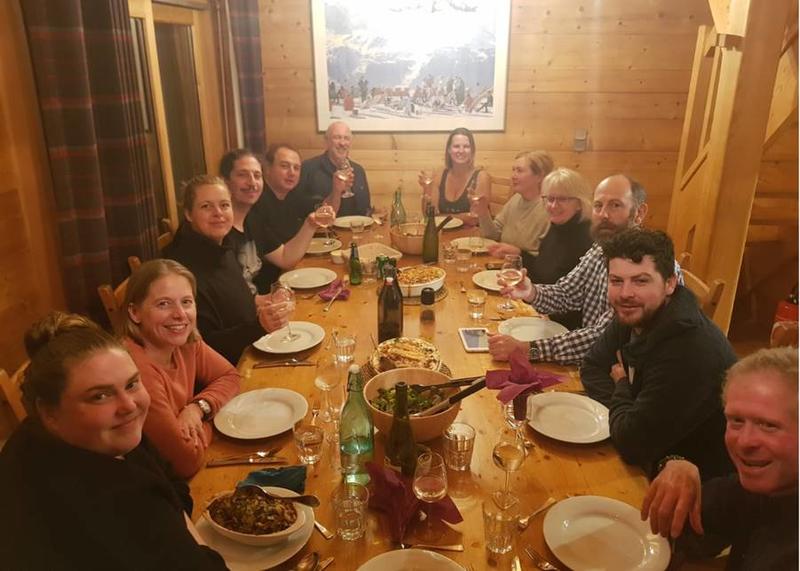 An unforgettable experience
I really do run out of superlatives to describe this experience. It's not overly-strenuous (unless you really haven't walked uphill at any time in your life) so you are fully able to engage with the magnificent landscape and fellow walkers to make a very pleasant day out on the mountain. Tiring but not exhausting would be a good way of describing it. We travelled daily to different parts of the valley to complete unique walks – no two days were the same. We walked to the Swiss border and viewed the vast Swiss Alps and travelled through the Mont Blanc tunnel to the "wild" Italian side for a high altitude walk viewing Mont Blanc from the other side. We also had ample time both after walks, before dinner and during our rest day, to wander through the appealing Chamonix shops, patisseries, mountain-wear boutiques and museums and to eat at the local restaurants and cafes (on Ben and Zohi's day off).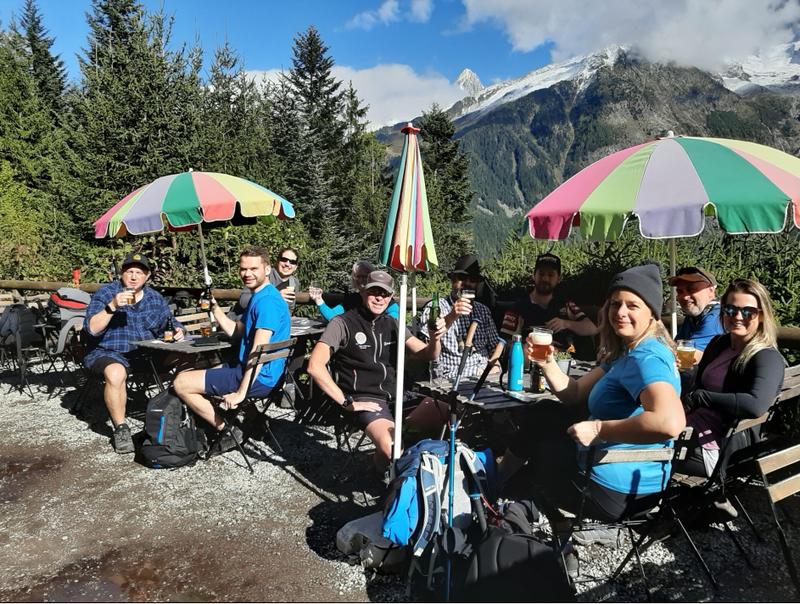 We all inflicted our decidedly average French on the local residents and shop owners but they were very kind and reverted to excellent English with a smile (the English come here in significant numbers for walking and skiing). The accommodation was warm and very comfortable and we all had a good night's sleep to prepare us for the next day's walk. Exodus manage these journeys very well so that the easiest walking days are at the beginning and gradually build up to the more challenging days near the end of the week, once the muscles have acclimatised. Their choice of accommodation and staff is outstanding. Don't change a thing Exodus, it's just right the way it is. Your 40 + years of arranging this type of holiday clearly shines through, well done!
I'll be back to my new favourite place, for sure - I'll be taking my wife and a group of keen walkers! There are so many walks to be revisited and discovered in the Chamonix Valley. You could walk trails in the wider European Alps for many years before you'd have them all ticked off. It's a truly beautiful part of our planet, so do go and discover it!
Merci bien Chamonix and Exodus!
---
Keen to plan your own Swiss walking holiday? Jeremy's your man - you'll find him at
World Travellers Motueka
.