There's nothing quite like sitting back and watching the world pass by. Train travel offers a truly unique experience. Swifter than exploring by foot and more relaxed than driving yourself, it's an ideal way to immerse yourself in the landscapes of a destination. But what makes a train journey truly unique is the chance to get to know the other people onboard. The time you have onboard gives you the chance to connect with locals and each other in a way that's not quite possible on a road trip.
Here are 10 of the world's most magnificent train journeys. All aboard!
1.TranzAlpine, New Zealand
If you want to experience an epic rail journey close to home you're in luck: we've got one right in our backyard! The TranzAlpine was named by National Geographic as one of the most scenic train journeys in the world, and for good reason. The 223km route from Greymouth to Christchurch takes just under five hours to complete and even those of us who've lived in this country all our lives can't help but marvel at the wondrous peaks of the Southern Alps and the majestic Canterbury Plains.
2. The Ghan, Australia
A little further afield lies an epic continental journey that takes you from the north to the south of Australia. From the tropical Top End to the heart of the outback and South Australia's rolling hills, this train adventure lets you sample some of the landscapes that make our next door neighbour so unique.
The railway is named after the Afghan cameleers who helped the British settlers make their way into the Australian continent's interior by helping to build infrastructure. The entire journey from Adelaide to Darwin takes over 50 hours, but you can break up the journey with a stop in Alice Springs to get a feel for the beating red heart of this fascinating country. Definitely take a good book to read on this one.
3. West Highland Line, Scotland
This scenic railway will make you feel as though you're in a movie, and indeed in a way you are - part of it appeared in the Harry Potter films. As you cross the Glennfinnan Viaduct you'll feel as though you're headed straight to Hogwarts. Instead, the train will take you through the mountains, moors and lochs of western Scotland. As there are no roads out this way, this is a part of Scotland you can only experience by train, making the journey all the more special. Hop on at Glasgow and travel to Mallaig, which will take you five and a half hours.
4. Flåm Railway, Norway
This railway was made famous when a 360 degree camera was installed at the front of the train and a film of the entire journey posted online. You can watch that to get an idea of what to expect, but nothing beats riding the train itself. Connecting the villages of Flåm and Myrdal, the 44-minute journey takes passengers down into the Aurlandsfjord, passing through 20 tunnels and lush scenery along the way. It's a truly magical way to glimpse Norway's beautiful mountain scenery.
5. Bernina Express, Switzerland & Italy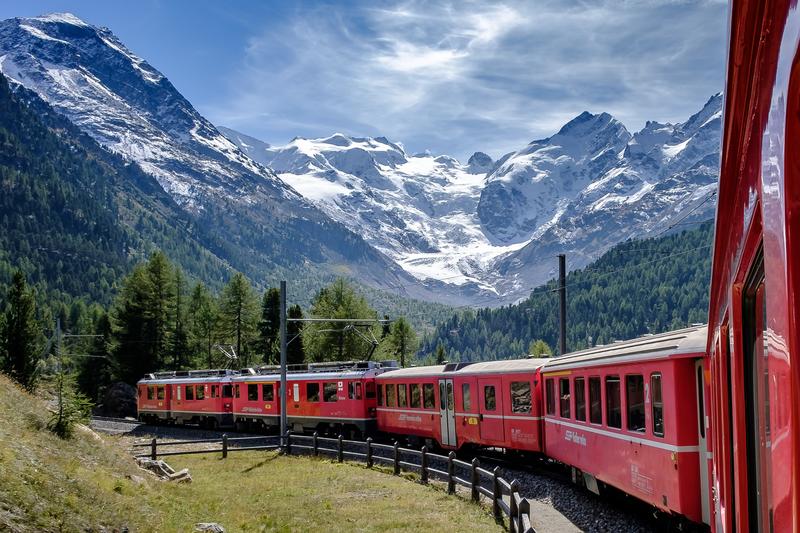 If it's scenic splendour you're after, there aren't many train journeys more beautiful than the Bernina Express. Starting in Chur, Davos or St. Moritz in Switzerland, this journey takes around four hours to reach Tirano in Italy. Along the way, you'll pass almost 200 bridges and viaducts and pass through 55 tunnels. The train takes you through UNESCO World Heritage sites and some of the world's most stunning alpine views. Kick back, relax, and soak it all in.
6. Lake Titicaca Railway, Peru
This rail journey will take you across the Peruvian Andes from Puno to Cusco, traversing the world's highest navigable lake. The trip takes 10 and a half hours from start to finish. Dine in luxury in a 1920s-style Pullman carriage while watching breath-taking landscapes pass by out the window. An open-air observation car lets you take photos of the surrounding views, but make sure you put your camera down for a while to really absorb this unforgettable journey.
7. California Zephyr, USA
The California Zephyr begins in Emeryville, San Francisco and finishes up in Chicago, taking you through some diverse cities and landscapes along the way. Experience midwestern hospitality, the contemporary urban centres of Denver, Reno and Chicago, the magnificent Rockies, scenic Salt Lake City, history and culture in Sacramento, and the vibrant heart of San Francisco. This is a journey you'll want to do in stages, stopping off along the way to explore each of the unique destinations.
8. The Rocky Mountaineer, Canada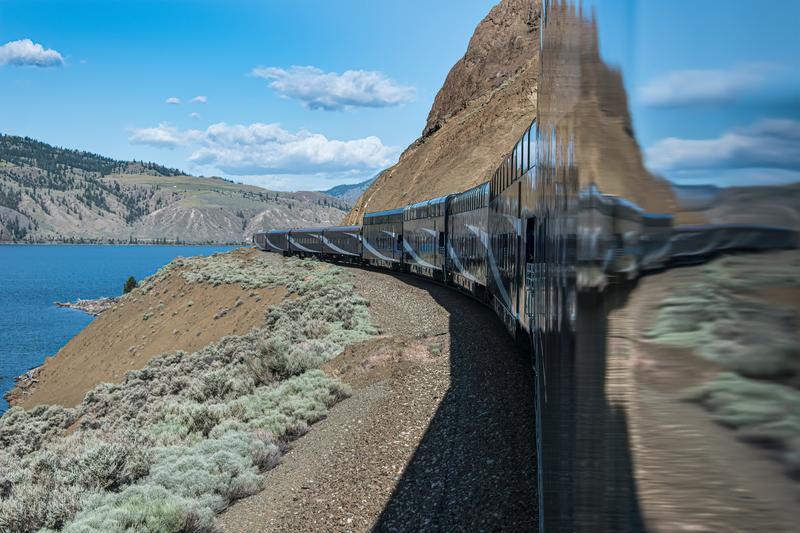 Canada's mountainous landscapes lend themselves very well to a number of extraordinary rail journeys, but this would have to be the quintessential one. There are four routes to choose from: Rainforest to Gold Rush, Journey through the Clouds, First Passage to the West and Coastal Passage. All of these take you through the magnificent Rockies, but offer slightly different lengths and experiences.
Rainforest to Gold Rush is for the true adventurers and lovers of wild, dramatic landscapes. Journey through the Clouds packs a punch for those after some spellbinding scenery, while First Passage to the West will appeal to history buffs. Adding the Coastal Passage to any of these three journeys will ensure you experience a variety of urban, coastal and mountainous landscapes.
9. Trans-Siberian Railway, Russia
Possibly the most epic train journey in the world, the Trans-Siberian spans a whopping 9,258 kilometres between Moscow in the west and Vladivostok in Russia's far east. It's a journey of continental proportions, giving you the opportunity to truly appreciate the vastness of the Russian interior. In addition to the Moscow-Vladivostok route, passengers can opt to travel from Moscow through China or Mongolia for a slightly different journey. Our very own Kevin Crequer chose to travel on the Trans-Mongolian route through Ulaanbaatar.
This route traverses great distances and a lot of time is spent on the train (the longest route takes seven nights), so many travellers choose to break up the journey. Spend a night in a Mongolian ger or visit a Tatar fortress in Kazan. And of course the scenery you'll witness out the window is mesmerising: from the Ural Mountains, Lake Baikal and the Gobi desert (if you're taking the route through Mongolia), there'll be plenty to distract you. At night time, make friends with the locals and mingle with other travellers. This is truly a once-in-a-lifetime experience, so add it to your bucket list!
10. Darjeeling Himalayan Railway, India
Also known as the "Toy Train", the Darjeeling Himalayan Railway in India takes you back to a bygone era. The railway was built in 1881 and has been a UNESCO World Heritage Site since 1999. While journeying along its 87km track you'll feel you're travelling back in time to the 19th century. To get an idea of the profound effect this journey has had on those who've completed it, take note of the words of none other than Mark Twain, who wrote that travelling on this train "was the most enjoyable day I have spent on Earth." Since he wrote those words in 1896 things may have changed a little, but as you travel along in the steam locomotive looking out at the Himalayas, there'll be little doubt this is one of the world's greatest journeys you can undertake.
If you're feeling inspired to book your own great railway journey, get in touch with your nearest World Travellers store. Our adventurous and passionate agents will put you on the right track (pardon the pun!)