Chicago isn't just a stopover destination; it's an experience in its own right. With Air New Zealand flying direct to the Windy City from Auckland, it's easier than ever for Kiwis to plan a holiday here.
The World Travellers team spent a week exploring the city to find out all the best things to see and do. So read up on those tips for jet lag (you'll need them after the 16hr flight) and start crafting your Chicago itinerary!
What makes Chicago a destination worth visiting?
There's a lot more to Chicago than its iconic skyline. It's one of America's largest cities, yet it still manages to retain a sense of friendliness – evident in its locals, its laid back riverfront and diverse neighbourhoods. This city has architectural marvels, a fascinating history, beautiful green spaces, craft breweries, incredible sporting and musical events, and plenty of art and culture.
So, without further ado, how do you spend a week here? Our team has all the advice you need.
Take your walking shoes
In most places in the United States, you definitely need access to a car, but not so in Chicago. Take your walking shoes as Chicago is a fantastic walking city and it's so easy to get around. The city is constructed in a grid-like fashion (it was reconstructed in this way after much of it burned to the ground in the Great Chicago Fire of 1871), so it's easy to find your way around. There are plenty of attractions like museums, public parks, restaurants, shops and hotels within easy walking distance, and the public transport system is efficient and easy to navigate, which makes it a fantastic city for tourists.
Wander through Millennium Park and stop by for a selfie at the "Bean", explore one of the city's 77 distinct neighbourhoods, stroll along Michigan Avenue for some window shopping, or walk through one of the other many parks along the lakefront trail.
Learn about the city's architecture
A 75-minute architecture tour – sounds a bit of a bore, right? Not so, says Kiri Hill, Director of World Travellers Hamilton: "The architectural tour on the river was an absolute must-see – there's so much history and back story to Chicago."
There are several companies offering tours of the architecture along the river, and the World Travellers team hopped aboard a Shoreline Sightseeing cruise boat. The tour teaches you to really look up and think about the buildings all around you. There are so many different styles, and learning about the way the city rebuilt itself in the aftermath of the devastating fire is a testament to Chicagoans and their resilience – something that seems to be engrained into the culture of the city.
The boat cruise is just a taster; if you're hooked and want to learn more about the architecture of the city and how it become the birthplace of the skyscraper, you can check out the Chicago Architecture Centre on the riverfront. Entry is $12 for adults and there are some fascinating exhibits about the city's most iconic buildings and the future of the urban environment.
See a show
Chicago hosts an abundance of theatre and musical productions, and for several in our group these were the real highlight. Our Group Operations Manager Dianne Lamberton and Napier-based travel broker Debbie Knight went to see Hamilton, a broadway musical about American founding father Alexander Hamilton, and came back raving about it.
Go to a game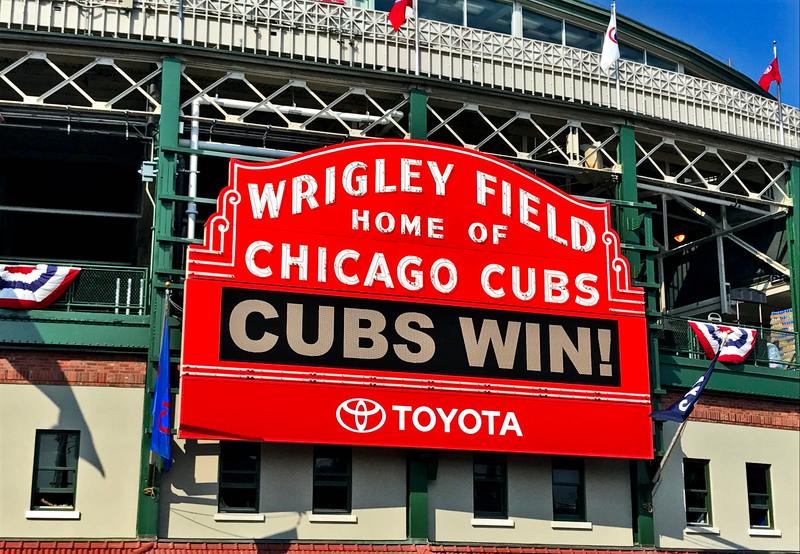 For Michelle Sanders, Manager at Inspire Travel at Auckland Airport, the highlight was going to Wrigley Field to watch a baseball game: "My highlight would definitely be the Cubs game. Get into the full atmosphere, buy yourself a hat, eat hot dogs, drink beer - immerse yourself in the full Chicagoan experience!" The atmosphere at Wrigley Field is indeed electric, and even if you're not a fan of the sport, it's well worth getting yourself a ticket.
See the city a different way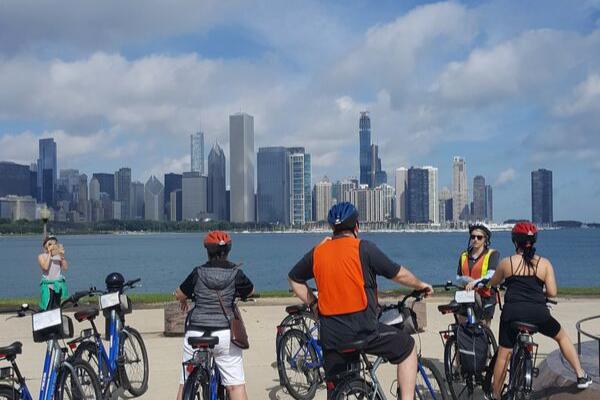 Chicago offers several unique ways to explore its streets and surroundings. For Celia Honiss, Managing Director of World Travellers Kerikeri, a cycling tour with Bobby's Bike Hike was one of the highlights of the trip. The tour takes about 2.5 hours and takes you along the waterfront of Lake Michigan to explore the parks and icons of the city. As the route is pretty flat the whole way, it's an easy ride and there are plenty of stops for photos and to learn about the city's history and monuments.
Get high
It wouldn't be right to visit Chicago without going up the top of one of its infamous skyscrapers. There are several options, including Willis Tower (which the locals still call Sears Tower – once the tallest building in the world for about 25 years) but we opted for the John Hancock Building. The 360 observation deck on its 94th floor offers panoramic views of Chicago that are best enjoyed as the sun is going down with a drink in hand. It's also home to TILT, Chicago's highest thrill ride, a nerve-wracking experience that tilts you out over over Michigan Avenue below from 94 floors up.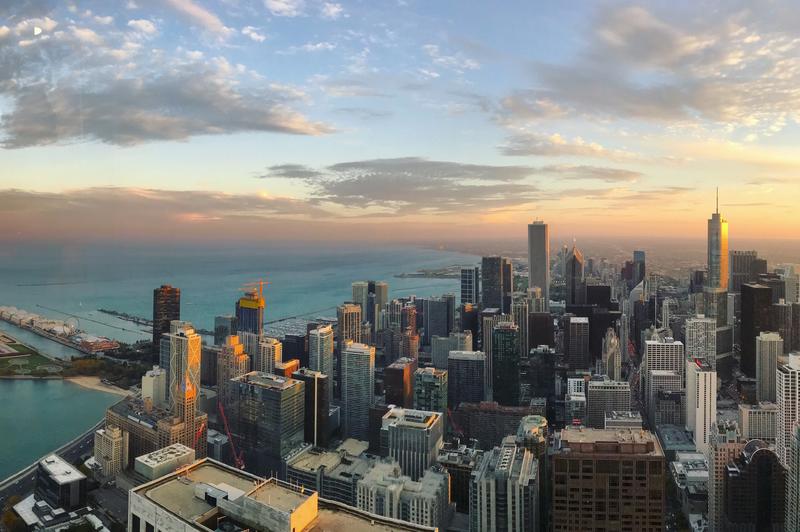 If that's a little too high for you, Alex Chisnall, Manager of World Travellers Nelson, recommends heading to one of Chicago's rooftop bars. She suggests checking out London House rooftop bar, where you'll get splendid views of the city without the vertigo.
Do a spot of shopping
Shopaholics should check out Michigan Avenue, or the "Magnificent Mile", with its array of top shops and malls. You'll find all the luxury and designer stores like Ermenegildo Zegna, Gucci, Cartier, Tiffany & Co. Louis Vuitton, Giorgio Armani and Coach. There's a Macys, Bloomingdales and Nordstrom, and you'll also find the official team sports stores for the Chicago Cubs and Chicago Blackhawks so you can stock up on paraphernalia before going to a game.
Enjoy a bite to eat
Chicago is famous for its hot dogs and deep dish pizza, which are undoubtedly worth savouring, but the city offers much more than just fast food. The World Travellers team throughly enjoyed lunching at Beatrix Market on St. Clair Street, with its variety of affordable, healthy self-serve options. For a slightly fancier option, check out Lux Bar on East Bellevue Street. Or join the locals at one of the many bars and restaurants along the Riverwalk in the evening.
Get your culture fix
Chicago has some great museums and cultural hubs. From the natural wonders at the Field Museum to the masterpieces on display at the Art Institute of Chicago, there's something to suit every type of culture vulture. Then there are the multitude of jazz and blues bars that will have you tapping your feet to the rhythm whether you're a fan of these genres or not.
---
There are plenty more things to see and do but we've got to keep some secrets to ourselves! Keen to plan a trip to the Windy City? Our agents are all clued up on the best places to go and can share them with you so you can have a true Chicagoan experience just like we did. Find your nearest store now.