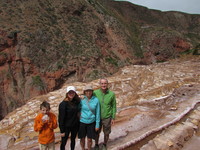 The exotic continent of South America is on many a bucket list. From the Inca Trail and Machu Picchu to colourful Buenos Aires, the dramatic landscapes of Patagonia and the Bolivian salt flats, and the unique wildlife on the Galapagos Islands, there's so much here to offer travellers.
But how about travelling with your family? Angela Sargeant from World Travellers Nelson decided to take her kids along the second time she visited the continent for a family holiday to remember. We talked to her about what it's like to travel in South America with youngsters in tow.
Where should you go?
Her family trip to South America wasn't Angela's first rodeo. "Having been to South America before I wanted to take the kids on an adventure that was a little out of the ordinary. I wanted them to experience lots of culture to see how the other half of the world lives." There are a lot of options, but Angela decided to head for Peru.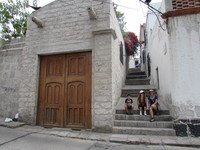 "Peru is the hotspot of the culture and it's so different to New Zealand, so I based my trip around going there. Having been there before we decided to skip Lima and head straight to Arequipa, the second largest city. It's made out of white volcanic stone and surrounded by volcanoes so the city has got this beautiful old feel to it and lots of history."
After spending a few days in Arequipa, Angela, her husband and her two children aged 10 and 14 flew to Cusco and headed for the Sacred Valley and Machu Picchu.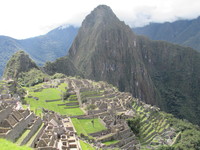 Angela had previously hiked the Inca Trail to the famous site of Machu Picchu, but decided to do it differently with the kids. "We took the train to Aguas Calientes to get to Machu Picchu. I had previously walked it and thought walking the Inca Trail was the only way to see it – and it is the most awesome way to get to Machu Picchu. But taking the kids by train and bus suited our timeline and was a lot of fun for the kids."
This destination has been in the media a lot in recent years for overcrowding, and numbers of visitors are strictly limited to control the number of people at the site. However, even at a massive tourist attraction like this, Angela and her family managed to find some different ways of doing things. "We went off the beaten track a bit. There's a big cone mountain in the background called Wayna Picchu that we climbed– it is quite adventurous. There were places where we had to hold ropes and climb up."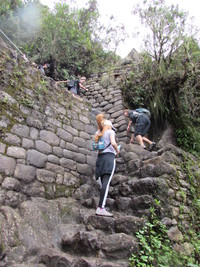 After Machu Picchu they flew to Buenos Aires to spend a week living like a local. "It's such a cool city and I'd definitely give it a week," Angela recommends.
In terms of where else she'd recommend taking children in South America, Angela says "I think other families would really enjoy going up to the Galapagos and Ecuador. Rio de Janiero and Iguazu Falls would be another good place to take the kids."
How to have a local experience
Rather than do things the typical way, Angela and her husband decided to find some unique experiences to open the eyes of their children.
"We went off the beaten track quite a bit. We stayed in a B&B run by an American and his Peruvian wife in a village that only had one B&B. There were no other tourists."
As a travel agent, Angela knows how to find some pretty unique places, and did her research to make sure they found accommodation options that were a bit different to standard hotels.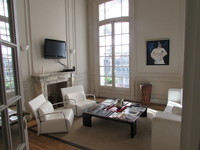 "I found a place in Sacred Valley through a guy who had written a blog on a couple of the little villages I was studying. I discovered the B&B through the owner's blog and read reviews of other people who had stayed there."
She made sure the final place they stayed was really special, to finish off the trip in comfort. "The place we stayed at in Buenos Aires was a French-style Airbnb apartment, The last place you stay on every trip make it really amazing." Good advice, we reckon!
They also tried to eat at local restaurants when they could – a more immersive and affordable option. "It was another experience going and eating at the local restaurants," Angela says. "They didn't speak Spanish, it was the local dialect. It cost us $3.50 for a three course meal, so it was really cheap and amazing."
Living and eating with locals exposed Angela and her family to the way Peruvian people really live. Unexpectedly, even in the most isolated of places the locals were pretty tech-savvy. "We woke up in the morning to the sound of cattle being taken down the road to the field. My husband took out his camera to take a photo of the cattle herder, who whipped out his iPhone to take a photo back!"
They also got a bit of an awakening about the limitations of their bodies compared to the hardy Peruvians.
"One day we thought we'd go for a bike ride as the place where we stayed had a few bikes. What we didn't account for was the altitude we were at, so we got down the road about a kilometre feeling exhausted. A little old lady went past with a bundle of something on her head on her way to the next village, and we just had to turn around and go back!"
Do you need to speak Spanish before travelling to South America?
You won't necessarily need to be fluent in Spanish, but Angela does suggest learning some words and phrases before you travel. "I recommend learning the basics by using Duolingo [read our blog on travel apps to find out more about Duolingo] or taking a night class. Learning basics before you go is really vital for connecting with people."
And how did the kinds get along? Better than the adults, by the sounds of it! "The kids really enjoyed the experience. My 14-year-old daughter was studying Spanish at the time at school so she put us to shame," says Angela.
"I went to Spanish night classes before going to pick it up again but I didn't manage to nearly as well as my daughter did. But we could read the menus and that sort of thing."
Tips for travelling South America with kids
Travelling with children in tow is always going to be different to solo travel, group travel, or a trip you take with mates or a partner. South America poses its challenges, but it's perfectly doable.
"In terms of getting there it's an easy enough flight from New Zealand to Chile up to Peru - there was nothing hard in that," Angela says. "The hard bit was the altitude, being at 3,000m. The other places we've been as a family were Australia and the Pacific Islands." Yep, not quite the same levels of altitude in those places.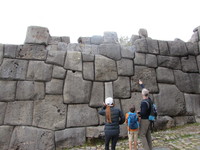 One of Angela's top pieces of advice is to slow down the pace (something Fuzion Travel broker Teryl Tumai also recommends for travellers in general – read our interview with her for more on slow travel).
"We stopped in places longer and we planned it so we had quite a few nights in the same place. When you're a bit younger or there's just two of you, you want to see it all. With kids it's better to stay put. Give yourself a bit of leeway and days of rest."
New foods might also affect kids, which is something to bear in mind. "You've got to account for the fact their tummies might play up a bit," says Angela.
A top tip Angela has to share is to take along something from home your kids can have with them when the culture shock gets a bit much for them. "Taking something from home is important. My youngest was 10 at the time and he buried himself in a magazine we bought at the airport when things got a bit overwhelming. Something familiar helps."
Is travel to South America safe?
Contrary to what you might have thought, South America is also a pretty safe place to visit. "It's a relatively safe place. I think the culture shock was probably the biggest and hardest thing. In Cusco you see dogs and people climbing over rubbish to find dinner – it's so different to home."
As with any destination, you should be sensible and exercise caution, especially when you're got children to look after. However, if you plan correctly and are respectful of local culture, you shouldn't come to grief. That being said, taking out travel insurance for your trip is definitely recommended (and something our consultants can sort for you), just in case something unexpected happens and you find yourself needing support. It's also a great reason to use a travel agent to book your trip, as they'll be there for you should something go wrong.
Is travel to South America affordable?
South America is a pretty good destination if you're working to a budget. The cost of travelling with a couple of little humans can add up over the course of a two or three-week long trip!
Overall Angela says their family trip was relatively cheap. "Airfares were less than $5K for the family. LATAM also have an air pass for South America that makes travelling around really easy. Accommodation is cheap and the food is cheap too. Buenos Aires is a bit different but Peru is pretty affordable."
---
Inspired to plan your own family trip to South America? Get in touch with Angela at World Travellers Nelson to get some expert advice, or
find your nearest World Travellers store here
.