Best hotels in South America
If you're looking for exceptional hotels to include in your South America travel itinerary, you'll be pleased to know that this wonderful continent boasts some of the world's most unique and luxurious accommodation options. In our endeavour to pick the best places to stay in South America, we've selected a few of our favourites and it's important to mention that we haven't chosen them solely for their luxurious offerings. The way we see it: there are plenty of luxury hotels around so the top picks should really offer something more. Something a little extra, some added oomph and perhaps even a bit of a WOW.
From award-winning eco-sustainability to startling remoteness and a winning trifecta of world-class service, amazing food and exclusivity, every single one of our top lodges and hotels offers something no other competitor does.
1, Inkaterra Machu Picchu Pueblo Hotel, PERU
More than a mere base for visits to Peru's most famous archaeological site, Inkaterra is a wonderful ecotourism project that offers a most memorable South America travel experience in the heart of the central Andean mountain range. This property is extraordinary: 81 gorgeous Andean-style casitas (luxury cabins) are set on an expansive swath of cloud forest that covers more than 12 acres. In your private gardens, you can spot over 200 different species of Andean birds, 100 distinct butterflies and more than 300 wild native orchids. Extensive walking trails on the property guide you to natural hot springs hidden amongst pristine forests and lesser-known Inca ruins that you can discover on your own. The service is top-notch, luxuries divine and food incredible: Inkaterra is about as glorious a reason to visit Machu Picchu as you could ever dream.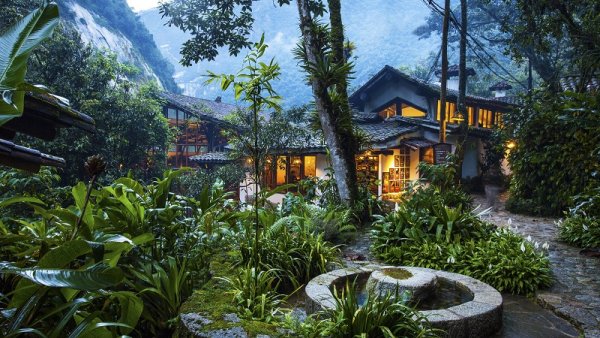 2, Mashpi Lodge, ECUADOR
A favourite of National Geographic, Ecuador's Mashpi Lodge lies at the heart of the Choco Rain Forest, one of the world's most biodiverse hot-spots. Only a 3hr-drive from the capital, Quito, this amazing eco-hotel was the brainchild of the city's former mayor, who purchased a large section of pristine and mostly primary cloud forest to save it from being exploited for logging. The environmental effort certainly paid off, creating a haven not just for the unique creatures living on this 3000-acre property but also for those lucky enough to visit. The lodge itself is absolutely gorgeous yet the emphasis of its architecture is very much on the pristine wilderness. Floor-to-ceiling windows afford wildlife-watching from every angle: from the comfort of your bed, the relaxing soak in your private jacuzzi, perhaps while you're saluting the sun on the yoga deck or while enjoying your haute-cuisine dinner in the two-storey restaurant. Staffed with naturalist guides and offering a wealth of sightseeing and wildlife-watching walks, Mashpi Lodge is the protected home of sloths, howler monkeys, armadillos, agoutis and tayras, among 160 fellow mammals, more than 400 different species of birds and innumerable amphibians. For that quintessential 5* sustainable stay in one of the richest cloud forests on earth, Mashpi Lodge is pure perfection.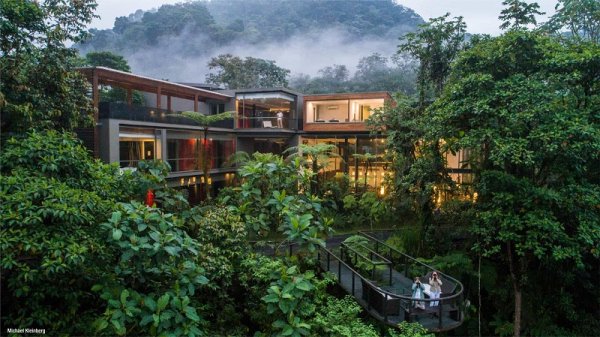 3, Posada Amazonas, PERU
Posada Amazonas is just outside the boundaries of the Tambopata National Reserve, one of Peru's best Amazonian reserves for wildlife-watching and jungle stays. This amazing choice is not as luxuriously appointed as some others yet it's the rustic charm – and the fact it is a local indigenous community-based project – that really makes it special. Mind you, Posada is nothing if not incredibly beautiful. The extensive use of wood and natural materials, as well as the open-air setting of every room, makes one feel at one with the rainforest. You don't just visit the Amazon when you stay at Posada Amazonas, you thoroughly live it. The lodge boasts 20 stunning bedrooms, communal dining room and bar, a splendid relaxation area and even an interpretation centre and souvenir shop. All meals are included in your room-rate as are the daily visits to Tambopata,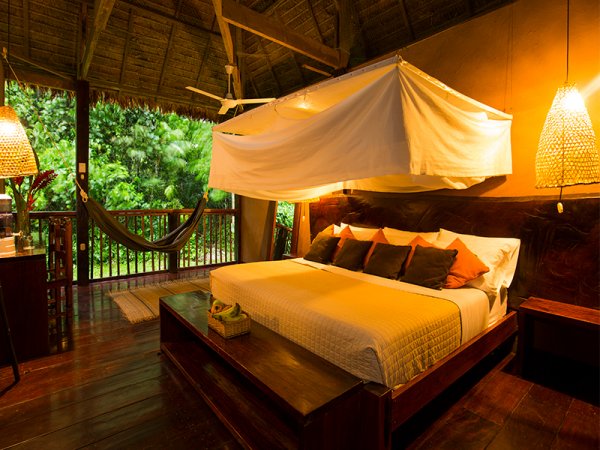 4, The Singular Hotels, Patagonia & Santiago, CHILE
Best for: Torres del Paine National Park & Santiago, Chile
Singularly enticing and collectively stunning, Chile's Singular Hotels are both members of the Five Star Alliance and offer something unique in both locations. In Chilean Patagonia, the Singular carries an illustrious sheep-farming history on its back, being built on the once-famous sheep processing plant which spurred on the founding of nearby Puerto Natales. The Singular Patagonia is now part 5* hotel and part walk-through museum, adding an infusion of fascinating history to your stay. Aside from the indulgent rooms and meals, you have the best of Patagonia right under your nose: the famous Torres del Paine National Park and its jagged granite peaks are just next door. Room rates include all you'll ever need: a glorious night's sleep, all your meals, access to the spa, airport transfers and as many walking excursions as your legs will handle.
If you fall in love with the Singular style (join the club) and wish to indulge even further, then don't walk past the Singular Santiago: an uber-stylish choice of equal enticement, right in the heart of the capital's most stylish neighbourhood.
5, Tierra Atacama and Patagonia, CHILE
If there's stiff competition for the Singular hotels in Chile then the Tierra hotels would certainly be it. These luxurious lodges belie their family-run origins and offer adventure-filled spa & wellness stays in two of Chile's most coveted destinations: Patagonia and the Atacama Desert. The spa indulgences are certainly well deserved. After spending an entire day hiking, horseback riding, mountain biking and kayaking either among Patagonia's overwhelming peaks or the spellbinding lunar landscapes of the Atacama, it's wonderful to come home to such comforts. The National Geographic rates these among The Most Unique Hotels in the world and we couldn't agree more. Everything about the Tierra hotels is absolutely brilliant, from the architecture to the accommodation choices, the food and activities on offer.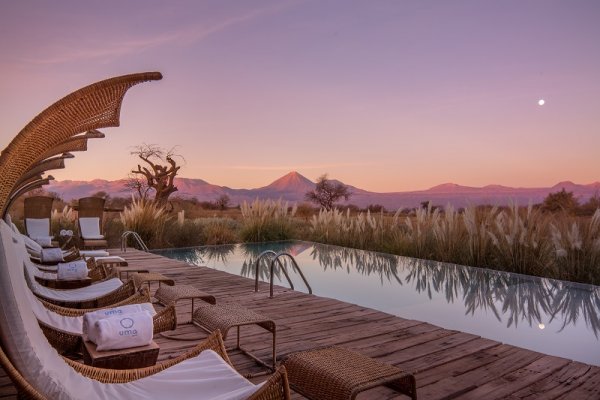 6, Belmond Hotel das Cataratas, BRAZIL
The Belmond chain of luxury hotels needs little introduction except to says that their Iguazu Falls heritage-listed hotel is a golden treasure like no other. The location is unparalleled: the majestic falls, from above, seem as if they're part of the Belmond's spectacular landscaping. This is the only hotel inside the Iguazu National Park and the only one granting you access after hours so you can soak up the magical wonders with only your fellow hotel-guests as company. A truly incredible offering and the only Forbes Luxury Hotel in all of South America, the Belmond Hotel das Cataratas offers luscious suites, a swimming pool, wellness spa, fine wining and dining and a wealth of amenities. The fact you get private access to Iguazu, one of the most crowded highlights in the whole continent, is reason alone to stay here on your South America travels.
The best place to stay in South America that offers the most unrivalled bonus of all: the Belmond is impossible to overlook.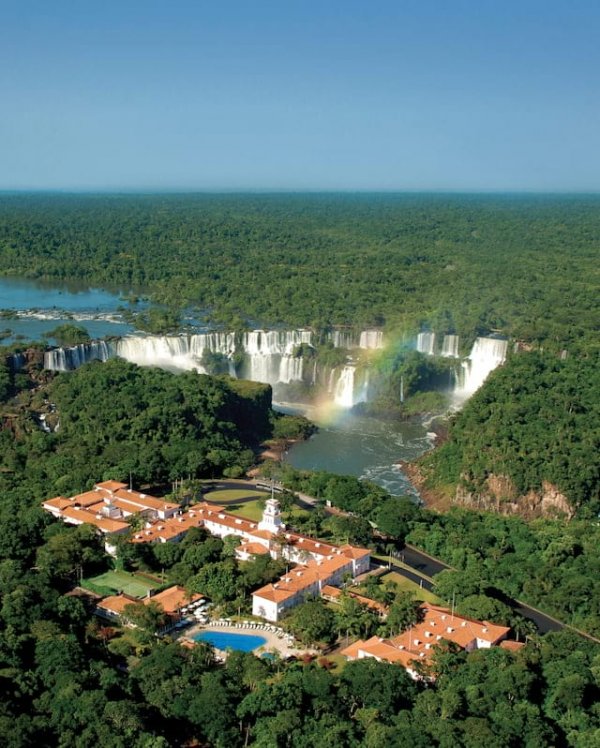 7, Ilha Experience Hotel, ECUADOR
A beautifully renovated colonial mansion is now one of Quito's finest accommodation offerings, set in the heart of the Ecuadorian capital's historic quarter. This enticing area is bursting with museums, plazas, restaurants and bars and is often considered the quintessential heart of the city's culture and history. The Ilha Experience is indeed a unique experience, with the 18th-century mansion, stunningly restored, offering a unique level of luxury whilst retaining a super cosy feel. A gorgeous boutique hotel with that extra sparkle that makes a stay in Quito even more rewarding.
Did we mention the food is amazing? Because it is!
8, Galapagos Safari Camp, ECUADOR
Every visit to the Galapagos is bound to be distinctive but you can make it even more so if you stay at this luxury safari camp on Santa Cruz, either before or after your Galapagos cruise. This unique tented camp (imagine a 5* hotel with soft walls) is set on the highlands of Santa Cruz. There are ten teak-floored tents to choose from, each one designed to soak up the startling views of this otherworldly place. Yes, there's a wildlife-watching deck, an infinity pool you'll never want to leave, a wonderful kid's club that entertains that littlies with art and cooking classes and plenty of privacy and solitude to boot. Yet most importantly, the eco-friendly Galapagos Safari Camp lets you immerse yourself in the wilderness of the Galapagos, the least impactful way possible
9, Eolo – Patagonia's Spirit, ARGENTINA
El Calafate is the best base point for visits to the glacial national park home to famous Perito Moreno. The town itself is buzzing with visitors (and guest houses) yet Eolo, set half-way between the town and park, offers an exclusive and isolated luxury stay. The hotel is set on 10,000 acres of prime Patagonian wilderness, boasts only 17 suites and offers the kind of unique vantage point you simply can't find anywhere else. The location is wonderfully remote and sweeping views of snow-capped Patagonian peaks are afforded in every direction. You feel like you're a million miles away from civilization and the luxuries on offer – including fine dining and wining, a great selection of activities and an overall relaxing vibe – seem totally unreal. The attention to detail and personalised service make Eolo a cut above the rest and the fact that they prefer to service fewer guests, superbly well, adds to the whole unforgettable experience.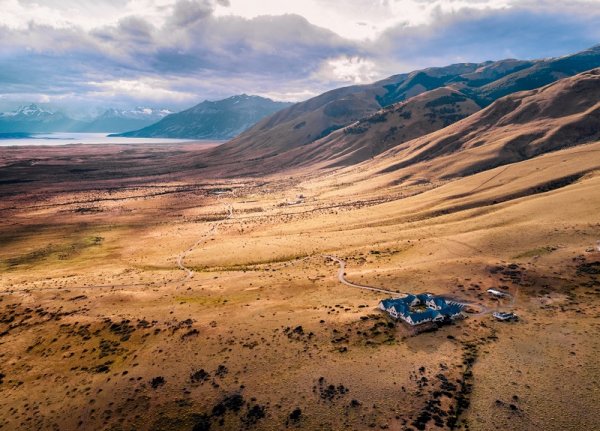 10, Arakur Ushuaia Resort & Spa, ARGENTINA
They say life in the southern tip of South America is tough although you probably won't get that feeling when you stay at Arakur in Ushuaia. The awe-inspiring panoramic views of Arakur are reason enough to stay, never mind the fact you can enjoy the startling vistas whilst soaking in a steaming whirlpool. One of the Leading Hotels of the World – that's literally at the end of the world – Arakur Ushuaia Resort & Spa is ideal for a pre or post-Antarctica cruise stay. An excellent restaurant, two cafés, three bars, two pools, a fitness and wellness spa and an elevated location high above the city combine to make this one of the very best places to stay in South America.
Stay here and they'll probably have to drag you away kicking and screaming.
Or maybe…that was just us.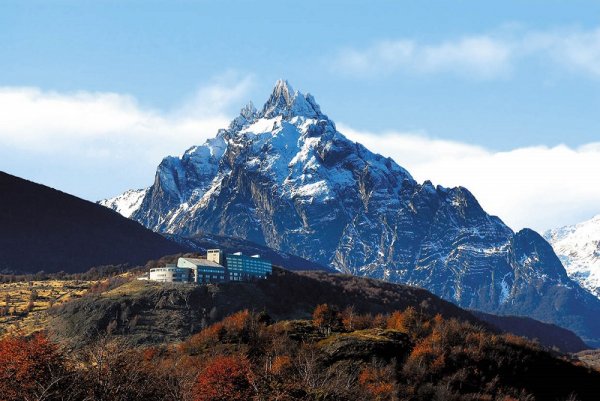 11, Casa Republica Lima, PERU
One of the newest (and bestest) additions to the Lima hotel scene, trendy Casa Republica is set in super fashionable Barranco, the Peruvian capital's artiest suburbs. The location is unbeatable: in such a sprawling city with maddening traffic, it's ideal to stay somewhere that offers so much within short walking distances. Cafés, boutiques, art galleries, museums, cool bars and fabulous markets fill the streets of Barranco and Casa Republica, a recent recipient of the Continental Winners of Prix Versailles award, is your best bet for an indulgent and convenient stay. Soak up the comforts of your luxuriously appointed rooms and enjoy your delicious breakfast before grabbing one of the hotel's bicycles for a self-guided tour through Lima's most colourful suburb. If you're starting your South America travels from Lima, you can include one of the best places to stay right from the get-go.