Where and What is the Route 40?
The Route 40 begins at the northern tip of Argentina, right at the border with Bolivia, and runs straight down to the southern tip in Patagonia for over 5,000km. The most popular section (because, let's face it, 5,000km really are very many) being the Northern Route, where you'll find the greatest variety of landscapes. Experiencing just a section (albeit still a very long one) of the Route 40 allows you to really soak up the splendours in just two weeks, alternating long drive days (which do become some of the best highlights) with days spent exploring the wilderness and towns you pass through.
The highway-to-end-all-highways runs alongside the base of the Andes, except for those few (27) times it crosses straight over them. On a Northern Route 40 journey, you'll drive by sparkling lakes, traverse over a dozen national parks and experience no-less than 7 Argentinian provinces, each one distinct and a highlight in its own right. Arid salt flats, world-class wine producing regions, mountain peaks to make your head spin and rocky deserts that seem to come out straight out of a fairy-tale book.
In recent years, the Northern Route 40 has received some much-needed TLC, with various long stretches being tarred, facilitating faster travel (and more sightseeing) although perhaps diminishing the adrenalin-pumping aspects that led this to be named 'one of the world's most dangerous roads'. This was mostly due to a few hairy switchbacks which were narrow, unpaved and with long drops below. Mind you, traffic isn't much of an issue in this remote region of Argentina and although some of the stops along the way, like super-famous Mendoza, do receive plenty of visitors, 99% choose to fly there instead.
Here's a quick overview of the provinces you'll cross when you tackle the Northern Route 40
Jujuy
This northern Argentinian province is the main reason why taking the trip from north to south is a very good idea. This is perhaps the most remote section of the whole RN 40, certainly the harshest, and getting thrown into the deep end is what a cuarenta experience is all about. Here, you'll find snow-capped high passes and mountainous plateaus dotted with llamas; lakes filled with pink flamingos and deserted landscapes that look like oil paintings. The multi-coloured mountains of the Quebrada de Humahuaca loom over small colonial towns, where Spanish conquistadores settled yet pre-Inca civilizations (lesser known indigenous groups almost entirely lost to history) used to farm here and domesticated guanacos almost 2,000 years before the Incas rose to power. The Jujuy Province comprises three distinct regions: the high altiplano in the north, framed by 5,000m peaks and boasting an altitude of 3,500m, the spectacular UNESCO-listed Quebrada de Huamaca Canyon that stretches for over 150 km and, further south, the semi-arid jungle of Gran Chaco. The landscape diversity in Jujuy is unreal and the colours simply astonishing. Combine that with a very rich indigenous culture and plenty of archaeological sites that barely see tourists and you'll soon understand why this place is such a mecca for intrepid explorers.
Salta
For sheer logistical reasons, Northern Route 40 adventures usually start off from the stunning colonial town of Salta, which is actually in its own namesake province just north of Jujuy. A fabulous reason to include a few free days before your overland journey begins, Salta is the hub with the airport and also the hub with the startling architecture, marvellous museums and awesome culinary delights. When it comes to enjoying a wonderful introduction to Argentinian culture, cuisine and love of wines, you could no better than to start right here. The climate is idyllic and the surrounding landscapes delightful, earning Salta the nickname of La Linda (the pretty one). Head south from Salta and, after a short stretch of fairly uninspiring flat landscapes, you'll see the jagged peaks of the Quebrada de las Conchas National Park come to life. The arid canyons and rock formations here are spellbinding and an absolute treat to hike through. This is the main reason the drive from Salta to Cafayate, the wine queen of the region, takes an entire day when, in reality, it should merely take 3 hours! Cafayate is all about otherworldly landscapes and unique vineyards and if you don't stop a whole day to sample the finest drops then let us tell you: you're doing it totally wrong.
Tucuman
Explore the wonderful scenery in Argentina.
Tucuman is only a tiny province but it is regarded by many Argentinians as the heart of the country or, at the very least, its most illustrious birthplace. It was here that independence from the Spanish was finally declared in 1816. The historical core of the main city of San Miguel is postcard-pretty yet the region is revered primarily for its lusciousness. This is one of Argentina's bread baskets, where agriculture reigns and lakes abound. This is where the Northern Route 40 changes face, the greenest area so far on the way south. The ruins of Quilmes are undoubtedly the biggest draw, this archaeological site in the Calchaqui Valley dating back over 2,000 years. It famously took the Spaniards almost a century and a half to subdue the Calchaqui (a feat even the Incas never managed to accomplish) and when they were eventually conquered, they were inhumanely marched all the way to Buenos Aires. The site boasts a truly fascinating (albeit sobering) history and is the largest pre-Columbian site in the whole country, so don't miss a visit.
Catamarca
Pass by the diverse landscapes along Northern Route 40
The Catamarca province is where the Northern Route 40 gets all dramatic again. The Andes reappear as if by magic bringing with them high-altitude passes and ancient cities where indigenous Inca culture is still very much alive. If you're craving more arresting peaks, more flamingo-filled lagunas and more cultural experiences then rest assured your short traverse of Catamarca along the Northern Route 40 will not disappoint.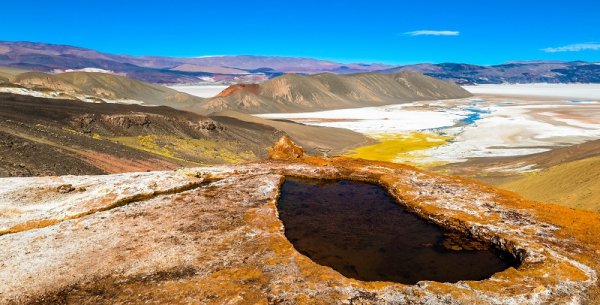 La Rioja
Multi-hued canyons continue to be your companions in La Rioja, a province that is defined by its immense variety. The Northern Route 40 runs alongside two UNESCO-listed National Parks, both recognised for their palaeontological value (some of the world's oldest fossils were found right here) as well as magnificent lunar landscapes that are an absolute feast for the eyes. You'll want to spend some time exploring these parks which are two of Argentina's most astonishing and lesser-visited.
San Juan
As you cross into San Huan, you'll be entering wine-country again, as the Northern Route 40 leads you south towards the most famous stop in this entire stretch, Mendoza. But first, hang around here a while, enjoy the marvellous valleys of San Juan, framed by striking Andean peaks and, why not, savour a sip or two. The small town of Barreal appears like an oasis in the desert: framed by seven high Andean peaks and seemingly stuck in a time-warp. Mass tourism has totally by-passed this town (so far), a place that offers an impressive array of activities, most famously star-gazing. Horseback riding and hiking. The air is pristine here and the idyllic climate means the town enjoys over 300 cloud-free days are here. Astronomers come from all over the world to study the stars here, in one of two world-class observatories. Stay the night and you'll enjoy one of the most incredible nights of your life.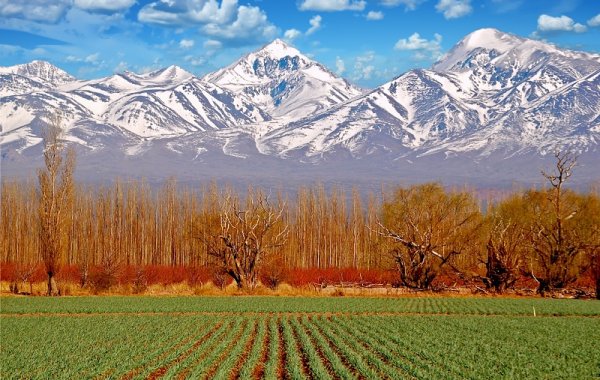 Mendoza
Taste the best wine from Argentina.
It seems surreal to finally reach one of the world's most famous wine-making regions. How on earth did the Northern Route 40 get so luscious, anyway? And it's not just wine that Mendoza makes, but also olive oil and some of the best beef on earth. Much like Salta at the start, Mendoza offers a wealth of wonderful things to do: there's wine tasting of course (d'uh!) but also horseback riding, hiking, rafting, mountaineering, fly-fishing and, in winter, fantastic skiing. It's a fabulous place to end an overland journey and a spectacular place to explore for a few days.
Experience the real Argentina.
Then skip the plane ride, include more days on your itinerary and take the less-trodden road instead. It is often said that the journey can be even more impressive than the destination and, when it comes to the Northern Route 40, this is definitely the case. South America's best road trip offers unique and very rewarding experiences – it gets you away from the tourist crowds and immersed in the Argentinian backcountry, where horses roam free and gaucho are hospitable and friendly. You'll see places that most tourists never even know exist and, more importantly, you'll feel like you have the whole place to yourself.
Because you most probably will.